Architecture
On the architecture of the Gunma Museum of Art, Tatebayashi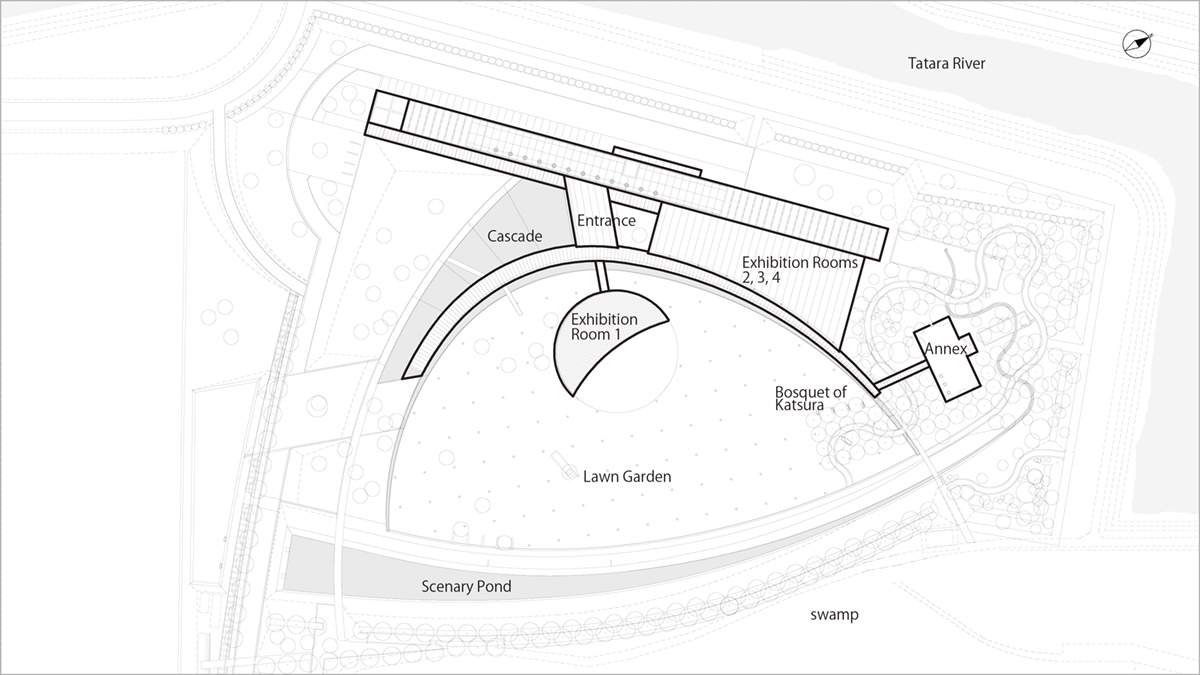 This Museum is located in the city of Tatebayashi, Gunma, northeast of the marsh Tatara-numa. Swans come to Tatara-numa in the winter and the area is rich in nature. Thus, it was chosen as an ideal location for our Museum, which pursues the theme of "the relationship between nature and mankind."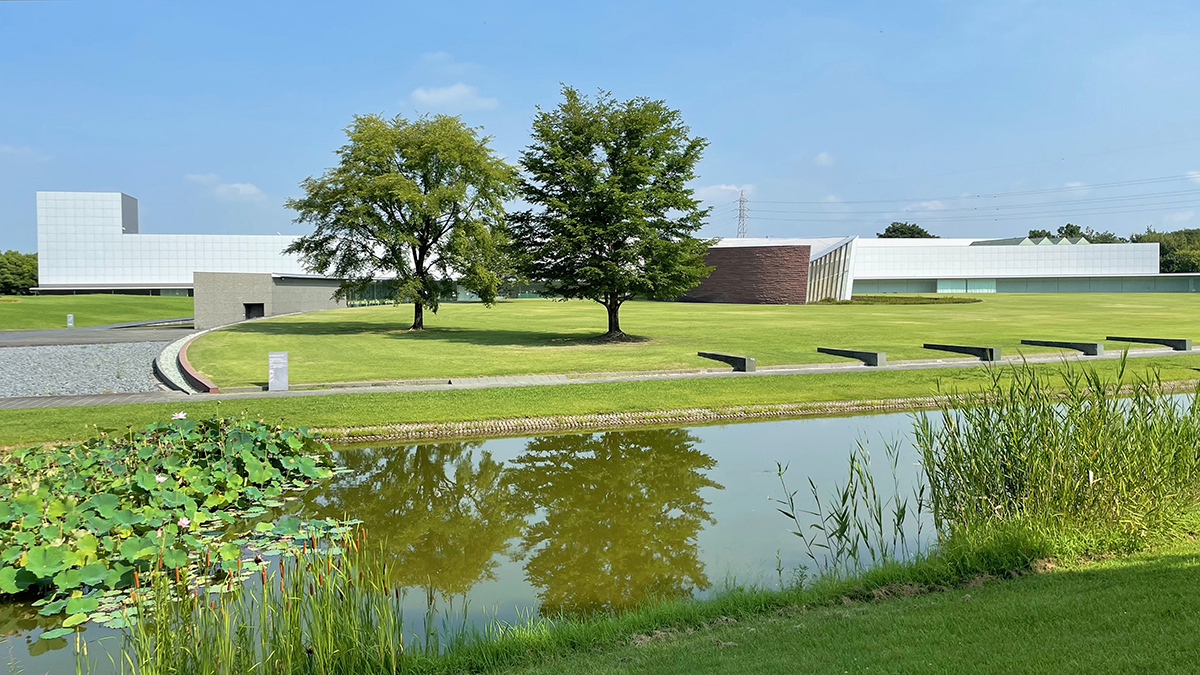 The construction of the Museum proceeded together with development of Tatara-numa Park. The architecture was designed by Daiichi-Kobo Associates (rep. Takahashi Teiichi) and integrates the landscape design of the entire site covering 7.5 hectares. On a flat land with archetypal scenes of the Tatara River to the north of the Museum, marshes in the southeast, and rice paddies in the southwest, by surrounding the Museum with a scenery pond and earthwork, it is designed as an independent "'island' emerging from the 'surface of the water.'"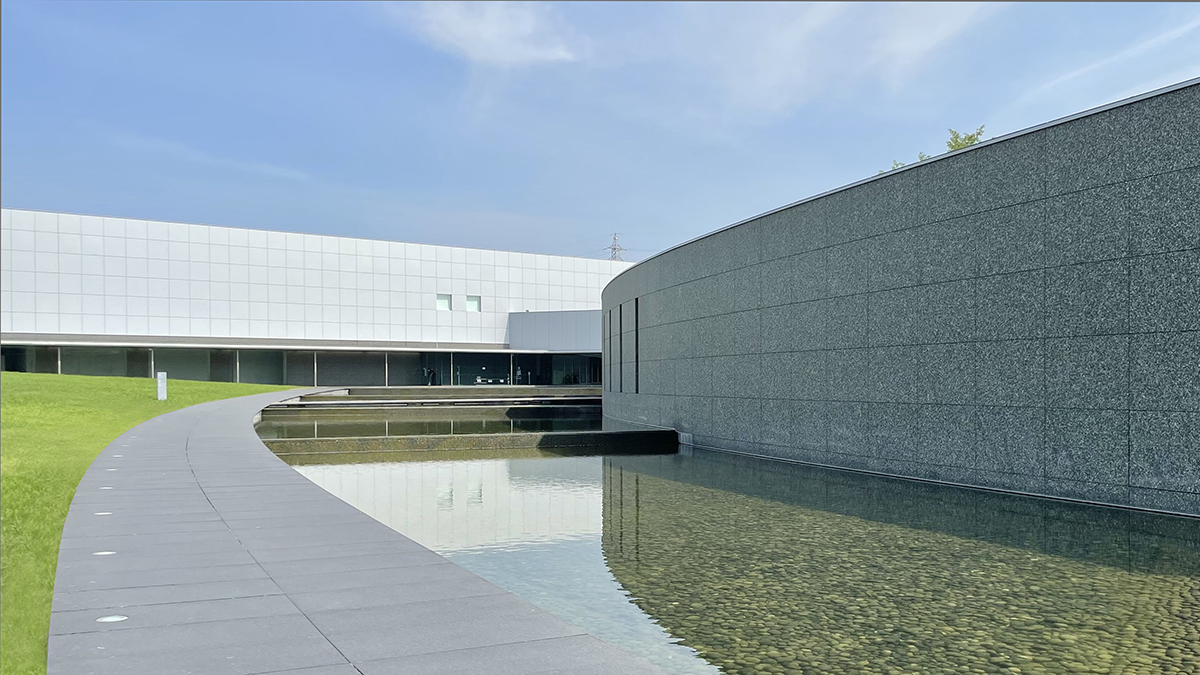 The approach to the Museum begins with the parking lot, across the bridge over the scenery pond, and along the curved cascade. The lawn in front of the Museum is slightly sloped to lead the visitors' eyes and movement within the horizontal landscape.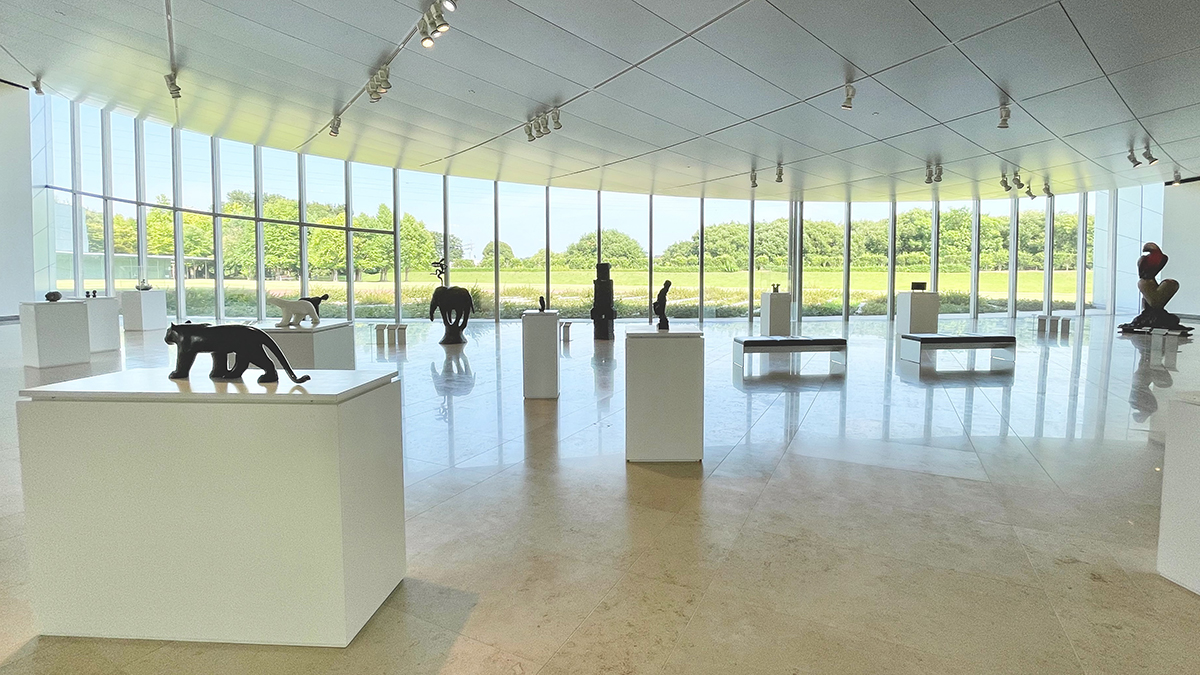 Located at the center of the building is Exhibition Room 1, with a large glass opening. Designed as a space to exhibit mainly sculptures such as those by François Pompon from the Museum collection, Takahashi Teiichi is said to have imagined "the sight of animals resting in the shade of the foliage of huge trees." From "a cone with its center in the earth" and "part of the spherical crust with its center in the sky," he worked out a slanted ceiling and a curved wall to produce a characteristic space.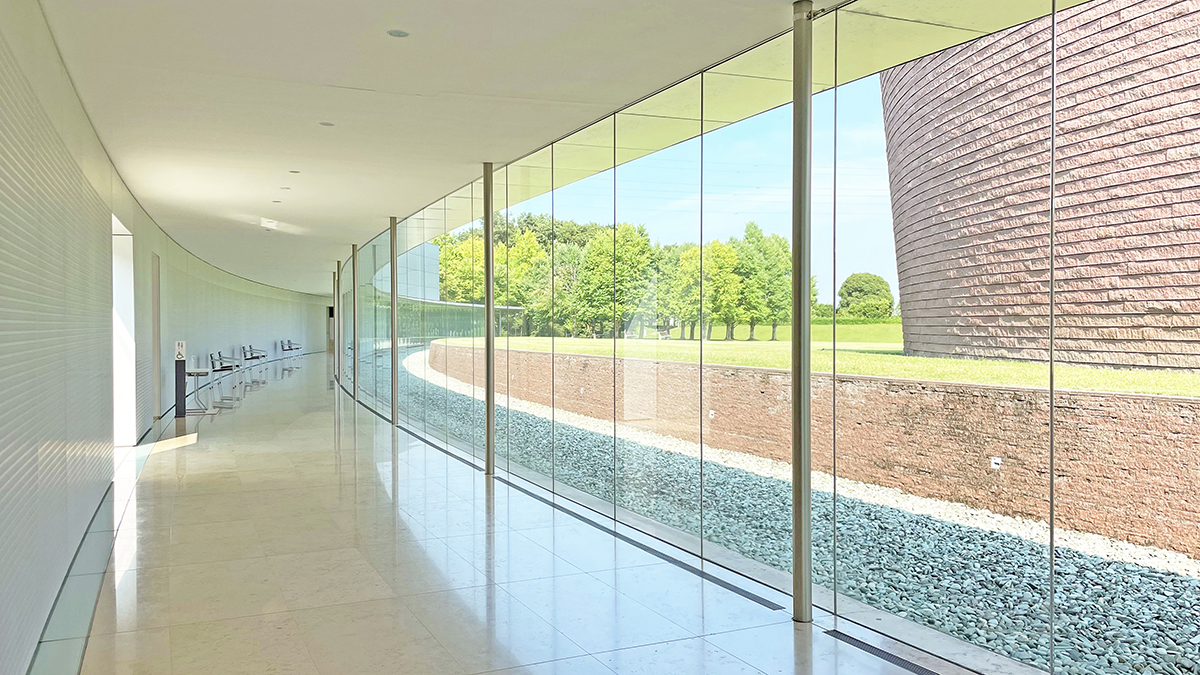 An arc-shaped gallery connects the Restaurant, Museum Shop, and Exhibition Rooms 2, 3, and 4. The gallery enwrapping the front garden is walled entirely in glass, forming a continuity with the outdoor scenery both visually and in terms of the path of flow. "While giving thought to the scale and texture of the materials including stone, aluminum, glass, and water, I did my best to keep the details as simple as possible and to minimize the lines segmenting the space." The designer's intention can be experienced in your body by placing yourself in the space and walking around.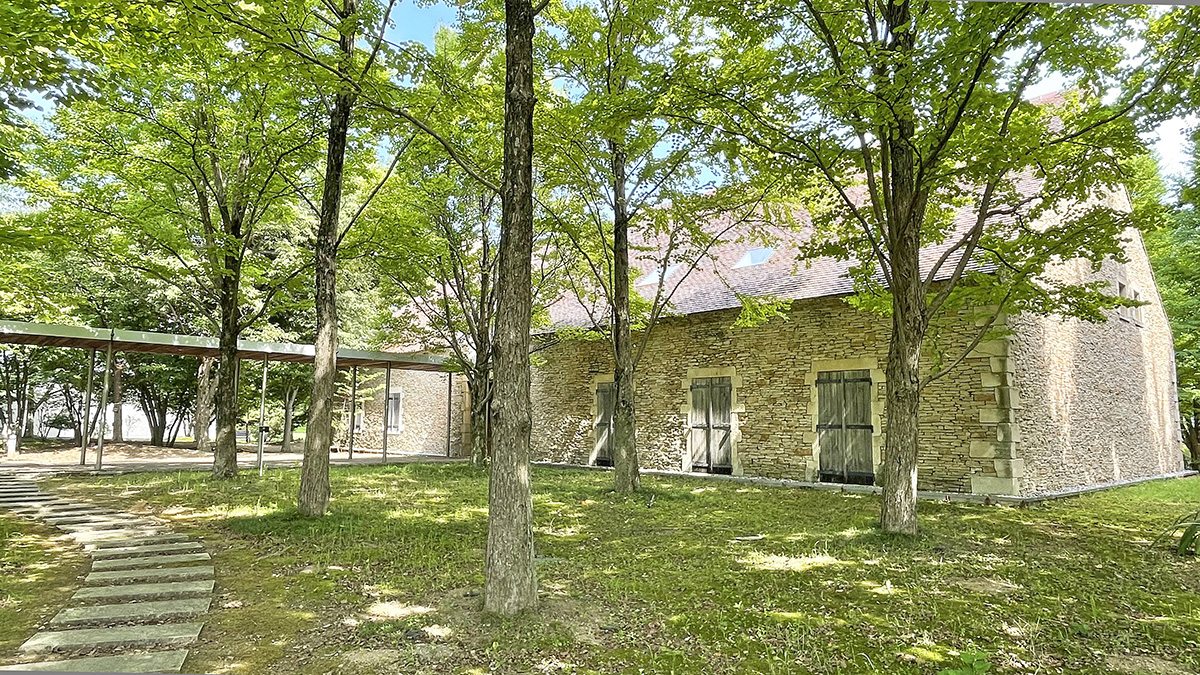 Proceeding along the gallery and stepping outside, you find the Annex, which is contrasting in atmosphere to the modern, sharp Main Building. The Annex is a building constructed to house the "Sculptor's Studio," where materials on François Pompon are displayed, and the "Workshop Room," where creative activities are undertaken. Giving thought to a farmhouse in Burgundy, where Pompon was born, the exterior is composed of random masonry of European roof tiles and limestone. There is a promenade around the building and the seasonal charms of a bosket of Japanese katsura trees connects the lawn in the front garden and the Annex.
Construction Information
Architect

Daiichi-Kobo Associates

Structural design

Kawaguchi & Engineer

Equipment and utilities design

Kankyo Engineering Inc.

Exterior design

Studio On Site

Sign design

Kijuro Yahagi Inc.

Type of construction

Reinforced concrete

Building area

5,742.85m2(main building, 5,436.53m2、annex, 306.32m2)

Total floor space

6,856.47m2(main building, 6,477.50m2、annex, 378.97m2)

Levels

Two levels above ground (in both main building and annex)

Exterior finish

Aluminum panels, Granite

Floor Materials

Limestone (Exhibition Room 1, Gallery),
Composite beech flooring (Exhibition Rooms 2, 3, 4), Terra cotta tile (Annex)

Museum opened to public

October 26, 2001