François Pompon (1855-1933)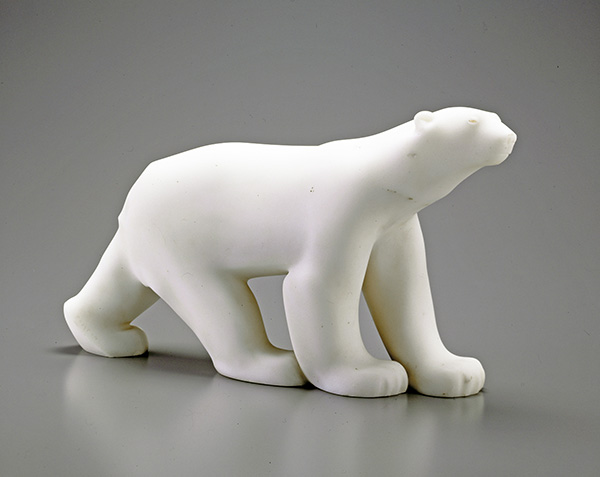 François Pompon was born in Saulieu, a town in the Burgundy region in central France, in 1855. He moved to Paris when he was twenty years old and worked at the studios of a number of sculptors. In Auguste Rodin's studio, his ability as a marble carver was recognized and he assisted in the production of human statues. Pompom himself also presented Cosette, based on Victor Hugo's novel Les Misérables, and other Romantic human figures.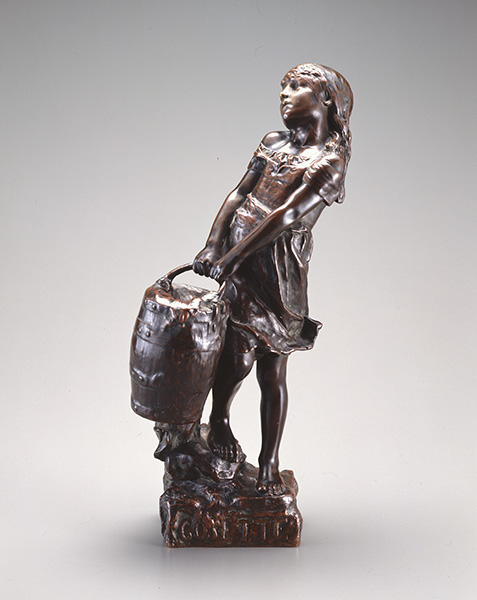 However, from 1895, he became an assistant to the sculptor René de Saint-Marceaux and spent most of his time in the countryside in Normandy, where Saint-Marceaux owned some land. From 1906, Pompon began presenting works with animals as his motifs. When he was in Paris, he continued to frequent the zoo and observe the animals. Having experienced discovering the beauty of the contours of animals in backlight outdoors and being influenced by ancient Egyptian flat, simplified reliefs, he produced elegantly silhouetted sculptures with details omitted and forms simplified.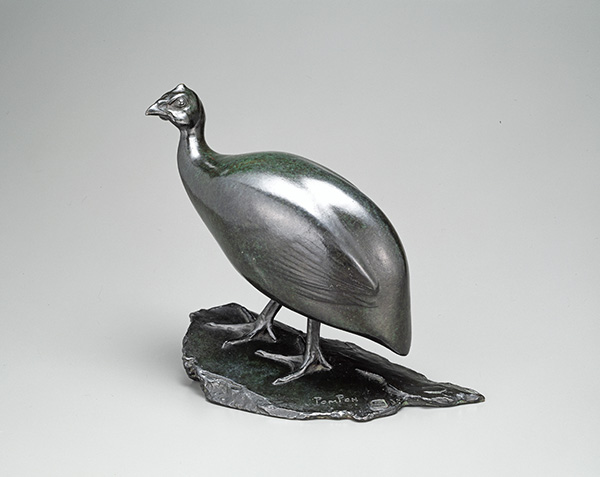 Polar Bear, a life-size sculpture Pompon presented at the Salon d'Automne of 1922, attracted considerable attention and Pompon, at age sixty-seven, became widely recognized as an innovative sculptor of animals. Throughout his life, until his death in 1933, Pompon created approximately 170 kinds of animal sculptures and nearly 70 human figures.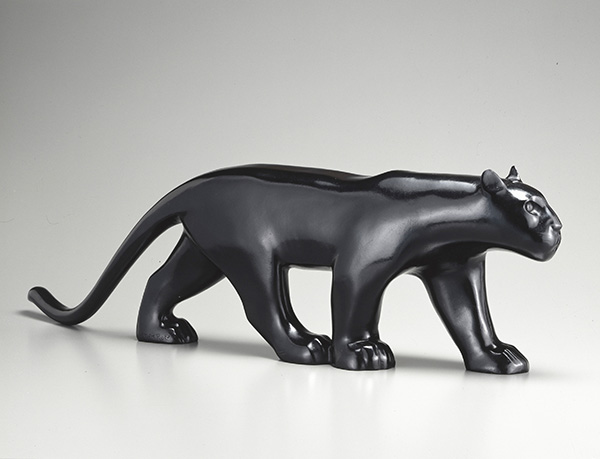 The Pompon Collecrion
at the Gunma Museum of Art, Tatebayashi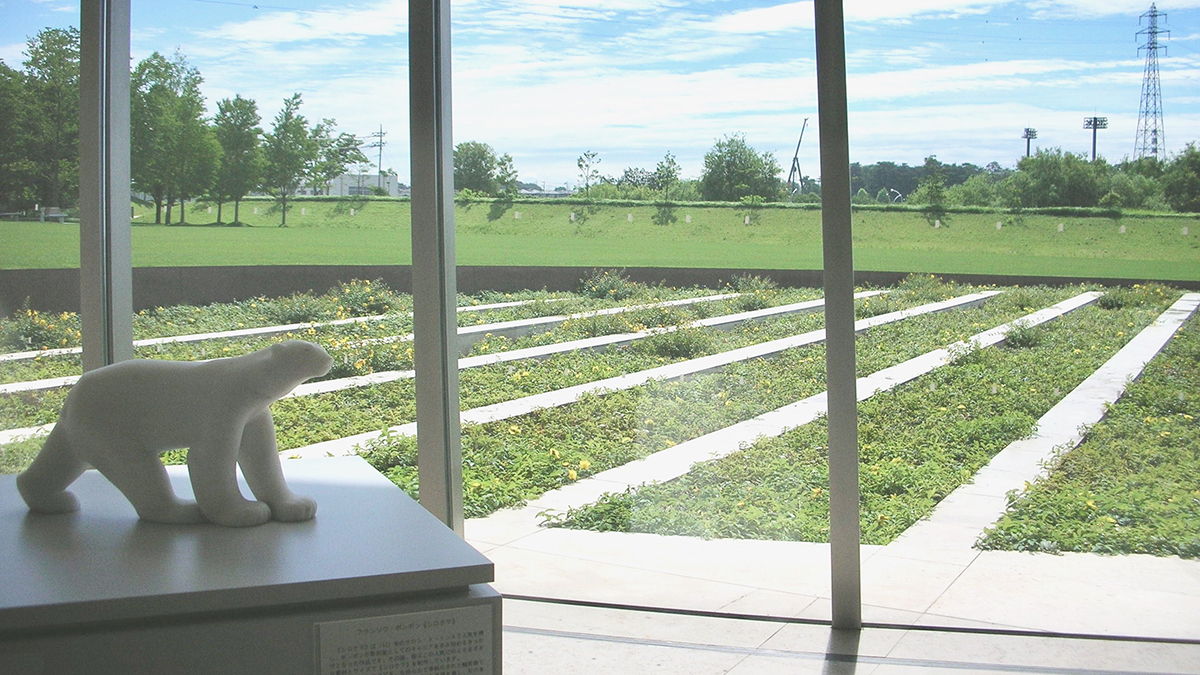 The Gunma Museum of Art, Tatebayashi owns a large number of items related to French sculptor François Pompon, which form the nucleus of our Museum collection : 67 sculptures (bronze cast during the artist's lifetime, plaster, porcelain, metal alloy and terra cotta), 7 drawings, a variety of objects and documents derived from the artist's studio.
TThe reason Pompon's works are included in our collection is that they are related to the theme of our Museum.
Here at Gunma Museum of Art, Tatebayashi, we collect works according to the theme of "the relationship between nature and mankind." At a time when realistic representation elaborately reproducing the coat of fur was the mainstream of animal sculpture, Pompon created beautifully smooth, refined forms cutting details away. He also brought about a revolution in the history of animal sculpture, which, ever since the Renaissance, had been considered inferior to human figures. Appreciating such historical significance and his easily approachable expressions, we focused on Pompon as a meaningful artist to pursue "the relationship between nature and mankind" and have been collecting his works. (There is no particular relation between Pompon and Morinji, the temple in Tatebayashi known for the Bumbuku Chagama legend.)
Plucked Chicken Running Around, 1910, ink on paper.

Owl, 1923, bronze.

Brown Bear, 1918-1926, bronze.

Water Hen, ca.1923, bronze.

Weathercock, 1908-1932, copperplate.

Large Deer, 1928-1929, plaster.
Many of Pompon's works were produced employing the bronze casting technique, and the sculptor left a will forbidding casting after his death. However, in those days, the social attitude towards posthumous casting was different from the current view and the French state acknowledged a number of posthumous casts. René Demeurisse, a good friend during Pompon's lifetime and executor of Pompon's will, also oversaw posthumous casting.
With due respect to Pompon's will, after our research in France and the examination by Mrs. Liliane Colas, specialist of François Pompon, we display the works cast during the sculptor's lifetime in the exhibition rooms since the opening of the museum. 34 posthumous casts are preserved as important reference materials useful for comparison with works cast during his lifetime, research on examples for which it is difficult to find existing casts produced during his lifetime, and the history of how his works were received. Some of these works are displayed in the "Sculptor's Studio."
The "Sculptor's Studio"(Annex)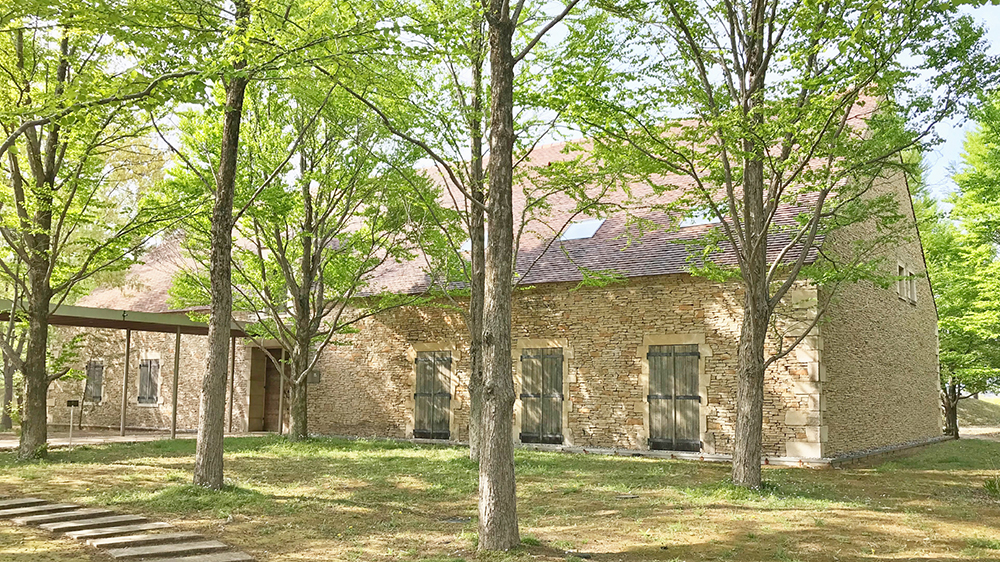 Annex (exterior)
Pompon lived in an apartment on rue Campagne-Première in Montparnasse and used part of it as a studio. Because the original building no longer exists, the Annex building was designed to give an impression of a farmhouse in Burgundy, the region where Pompon was born. The ceiling beams and the doors are made of old wood imported from Europe.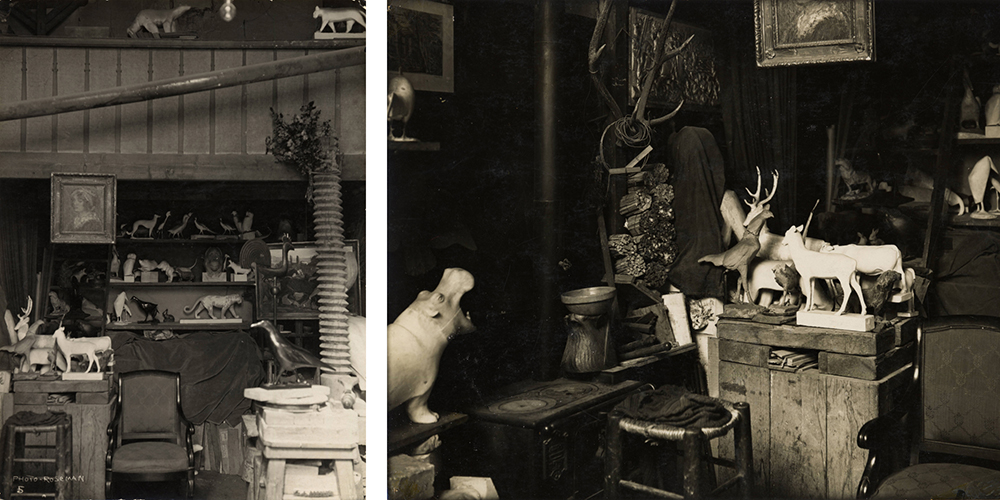 Photograph of Pompon's studio (3, rue Campagne-Première, Paris), 1933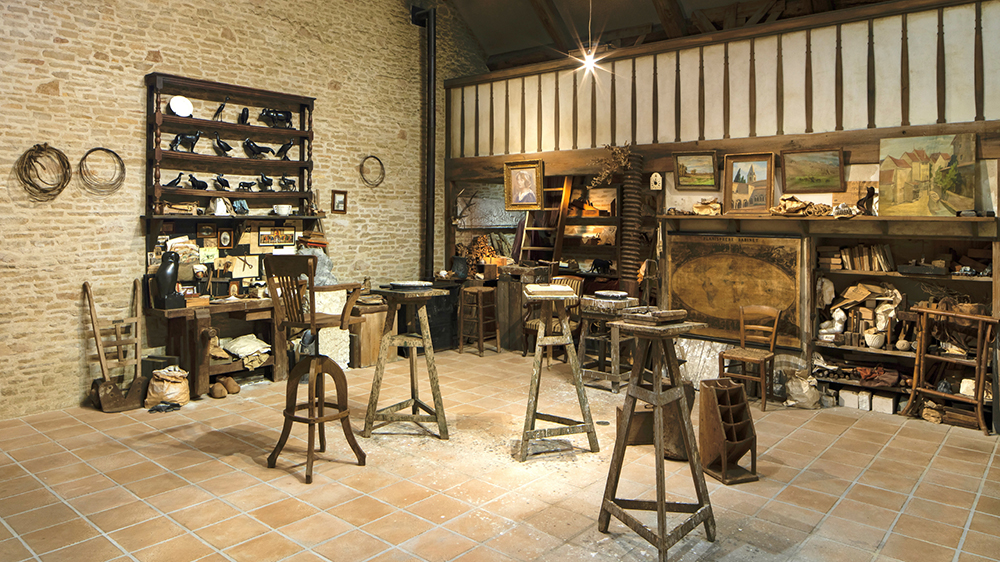 "Sculptor's Studio"
The "Sculptor's Studio" was reconstituted based on a number of photographs of Pompon's studio taken in 1933. Original materials from his studio such as worktables, shelf and a map are used together with antiques.
The Museum also owns a vast number of materials (molds, tools, furniture, photographs, letters, picture postcards, notebooks, business cards, magazine and newspaper cuttings, etc.) that were remaining in Pompon's studio. Some of these are on permanent display in the "Sculptor's Studio" and are also introduced in detail according to a variety of themes in the exhibition cases.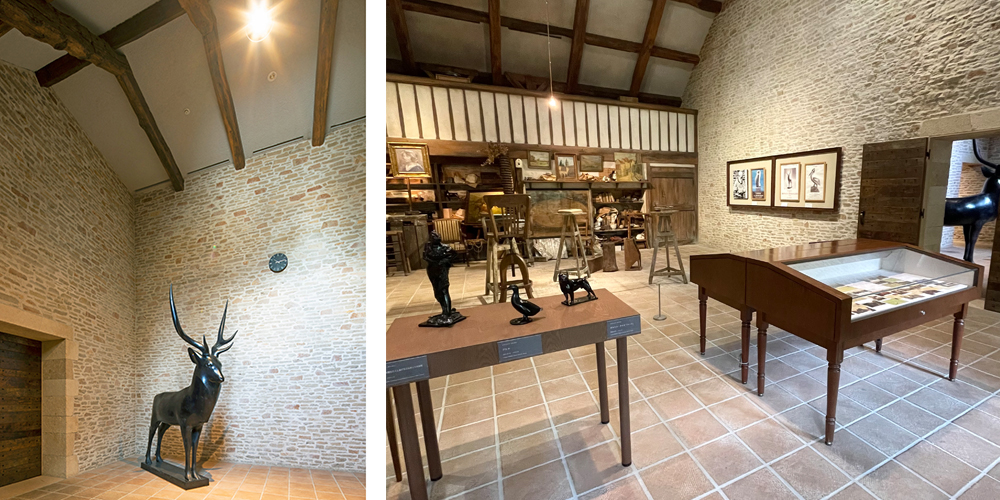 Left:Entrance Hall of the Annex (Large Deer, 1929, bronze (cast in 1976?)) Right:Presentaion of the documents at the "Sculptor's Studio"
See here for the schedule of the exhibition in the "Sculptor's Studio" (Annex)